May I Have This Dance, Dad?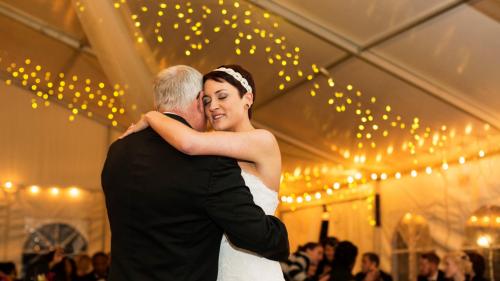 Is your wedding on the horizon? Are you thinking about the special wedding dances everyone will be watching and waiting for?
Of course, there's the first dance between the newly married couple. We can help make sure your first dance is one to remember. Learn more about wedding dance lessons at Arthur Murray.
However, beyond the first dance, there are other twirls on the dance floor you may want to think about in advance. Arthur Murray can help with those, too!
Spend some quality time with Dad and make that Father-Daughter Dance something special!
But wait. The Father-Daughter Dance? You may be asking where did these traditions come from anyway?
You are going to LOVE the origins of this one:
The first dance was reserved for "the moment when the father led his daughter, the bride, onto the floor," according to wedding historian Susan Waggoner. Originally, the Father/Daughter Dance came before the first dance as an extension of the "giving away" as well as the dowry. The father would demand a final dance before giving their daughters to their new man (often a stranger). Then the bride and groom would have their first dance.
Seriously, we can't make this stuff up….
When historian Susan Waggoner was asked if it is time to retire the Father/Daughter Dance tradition, she replied, "No, because I see how meaningful the sense of continuity and family is for so many couples."
Wedding traditions are not one-size-fits all. Whatever is important and meaningful to you should be considered first and foremost. And if that includes the traditional Father-Daughter Dance, that's wonderful! And, don't forget about the Mother-Son dance!
Today, the newly married couple typically shares the first dance, followed by father-daughter and mother-son dances.
Some couples begin with the father-daughter and mother-son dances and then break off halfway through the song to pick a new partner, making the dancing more inclusive.
At Arthur Murray, weddings are the perfect opportunity to learn to dance — or perfect your moves. We offer a FREE first private lesson and would love to meet you and get you acquainted with how much fun ballroom dancing can be!
Contact one of our nine Boston area Arthur Murray Dance studios and get started today!