Arthur Murray Manchester Dance School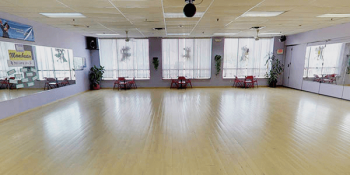 A World of Fun & Fitness Awaits with Arthur Murray dance lessons in Manchester
Have you ever thought about taking ballroom dancing lessons? Perhaps you are a big fan of the popular TV shows "Dancing with the Stars" or "World of Dance." Or, maybe you have already heard what so many people now know to be scientific fact: dancing makes you happy! It's true! Ballroom dancing helps to lower blood pressure and reduces depression while boosting confidence and self esteem.
Of course, many people want to learn to dance, but feel they don't have the time to dance or the ability to learn. The highly skilled dance instructors at Arthur Murray's Manchester Dance Center, led by owner Ron Townsend, say you have no idea what you are missing!
In fact, Townsend says, "whatever objection you have to dancing is the exact reason you have to do it!" If you are stressed out, dancing will relax you. If you are shy and worried about looking foolish, dancing will give you the confidence you need to be successful on the dance floor - and beyond.
Arthur Murray Dance Centers are well-known for being the go-to place to learn to ballroom dance for over 100 years. Our instructors are highly-trained and, using the patented Arthur Murray Teaching Method, they are able to teach anyone to love dancing. Patience and dedication are the keys to learning to dance and the teachers at Arthur Murray Manchester have plenty of both!
Everyone who comes to Arthur Murray Manchester finds themselves immersed in a community of friends. They are two of the reasons why this center is often described as a comfortable place to go where friends become family. Experienced students are always excited to welcome new students.
What are you waiting for? Come dance at Arthur Murray's Manchester Dance Center. Contact us today to reserve your complimentary first dance lesson.
Reserve Your Free First Ballroom Dance Lesson Today
"Ballroom dancing is a great hobby. It's great exercise, very social and lots of fun. Arthur Murray in Manchester has very talented instructors and a great group of students to dance with at the practice parties. The environment is extremely supportive and friendly. I started there 14 years ago having no idea how much I would enjoy it."
Liz, Hollis, NH
"For technique and expert instruction, Arthur Murray is the place to go. Alternatively, if you need to learn enough to dance at a wedding, they can make that happen."
Charlie, Henniker, NH
"Inspired by an upcoming trip on the QM2, my husband and I signed up for dance lessons at the Arthur Murray studio in Manchester NH. We have taken 25 lessons from their team of instructors. For fifty-two years my husband said he couldn't dance. We cannot believe what we have accomplished through their patience and skilled guidance."

Arthur Murray Manchester Dance School
99 Elm Street Manchester, NH 03101
Mon-Fri:

Sat: