Arthur Murray Danvers Dance Lessons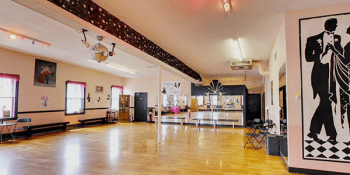 At Arthur Murray Danvers, Dance Lessons are All in the Family
Like millions of others, Joanne Crosley, owner of the Arthur Murray Danvers Dance Center, saw "Saturday Night Fever" in 1978 and was mesmerized by the fancy footwork of John Travolta. She left the theater that day, promising herself she was going to learn the Hustle. Days  later, she was taking lessons at the local Arthur Murray dance center.
What started as a desire to learn one dance turned into a career and lifelong passion.Within a few years, Joanne opened her own Arthur Murray Dance Center and hasn't looked back.
Along with her husband Mitchell, daughter Marisa, 24, and a very devoted staff, Crosley runs a center that is welcoming and friendly. Many clients have been dancing with her for years and they all love welcoming new students into the family. In fact, Thursday night is dance party night at Arthur Murray Danvers. All students gather for a fun dance party featuring great music, wonderful friends and plenty of baked treats (brought by the students themselves!)
"It is amazing what dancing does for people beyond the dance floor. I've witnessed rekindled relationships, reignited passion, weight loss, people who have grown from shy and reserved to confident men and women. Everyone has a different story. Everyone comes here for one thing and gets so much more out of it," Joanne said.
Looking to make new friends? Feeling like you are in a rut and it's time to try something new? Dancing is the perfect activity on all fronts! And, at Arthur Murray Danvers we would love to invite you to take advantage of a complimentary, first dance lesson. Our highly trained dance instructors are patient and friendly. We know you can do this. Give us an hour and we'll introduce you to the wonderful world of dance.
Reserve Your Free First Ballroom Dance Lesson Today
"Dancing at the Arthur Murray Dancers Studio has been the center of our lives for many years. We realized early on that it was the one place where we could forget all our stresses and just be happy as we shared time together and learned how to dance. I can't imagine our lives without dance or our friends at the studio."
Marian M., Danvers
"Ballroom dancing has enriched my life. It allows me to express myself without words and break out of my professional persona. I am more confident and have gotten in better shape from all the practice. After almost six years, I still look forward to going to the studio for my happy-time!"
Val M., Melrose
"Before Arthur Murray, we were the people who would leave a wedding as soon as the dancing started. We walked into Arthur Murray 8 months before our wedding hoping they could teach two people who had never danced before enough to not avoid dancing at their own wedding. The room was speechless during our first dance. Marisa not only made our first dance one to remember, she also helped us find our new favorite hobby! Thanks Arthur Murray Danvers!"
Kim and Mark, Newburyport
"When I first started my dance journey, I was a bit shy, and most definitely not graceful or coordinated. My instructor and the entire staff supported me and guided me through my many mistakes until one day, before I knew it, I was dancing with a renewed confidence. I was no longer shy. I was social and meeting new people and having fun. I now consider everyone at Arthur Murray my second family."
George G., Peabody

Arthur Murray Danvers Dance Lessons
60 Maple Street Danvers, MA 01923
Tues-Fri:

Sat:

8:45 AM - 2 PM