Arthur Murray Worcester Dance Center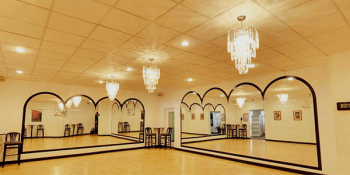 Learn to Dance & Have Fun at Arthur Murray's Worcester Dance Center
Many people think about ballroom dancing and immediately imagine graceful duos, holding each other closely, gliding across the dance floor. Certainly ballroom dancing is one of the most romantic activities one can partake in.
However, you may be surprised to know there are many tangible benefits to dancing, as well. Scientists have proven that dancing improves heart health, boosts brain function, assists with fitness and weight loss and dancing is a great mood enhancer. Just try not to smile while dancing!
Margery Warner is the manager of the Worcester center. She has been with the Arthur Murray family for over 10 years.
"When I started as an Arthur Murray student, I never would have dreamed of how much it would change my life," Warner said. "The Arthur Murray Dance Centers have helped me grow from the shy and quiet young adult that I was in my early twenties into the dancer, professional and overall confident person that I am today."
At Arthur Murray's Worcester Dance Center, couples and singles come together to socialize in a fun, lively atmosphere.
At Arthur Murray Worcester, the highly trained instructors make learning to dance fun! Your dance lesson will be a special time for you (and your partner). We personalize your lesson to meet your individual needs.
Warner added: "I feel very lucky that Arthur Murray has given me the opportunity to share the gift of ballroom dancing with other people and change their lives as well."
Our goal at Arthur Murray Worcester is to share our culture of fun with everyone who walks through our doors. Everyone here is a star - no matter how long they have been dancing! If you are looking for a new hobby and a great way to expand your social circle, we can't wait to meet you!
Contact us now to schedule your complimentary first dance lesson.
Reserve Your Free First Ballroom Dance Lesson Today
"Don't be afraid to begin dancing! You start with very basic steps and move at your own pace. It is so much fun! I've gained balance and stamina and met so many great friends."
Susan A., Worcester
"Arthur Murray personalizes your individual dance instruction to match your abilities. Every group lesson feels like a dance party with friends. It's a program that instills self confidence!"
"At Arthur Murray Worcester, there are friendly, talented instructors who truly want to see you improve and have fun! Everyone helps each other succeed and progressed in their skills."
Marty H, Worcester

Arthur Murray Worcester Dance Center
70 James Street Worcester, MA 01603
Mon-Fri:

Sat:

10:00 AM - 5:00 PM