Ballroom Dance Lessons In Natick, MA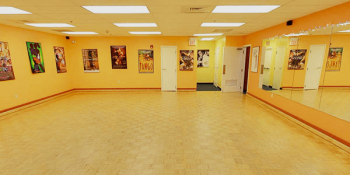 Take a Chance! Learn to Dance at Arthur Murray's Natick Dance Center
Life is full of responsibilities - children, work, home, community and more. Most people take little time to prioritize themselves in the hustle and bustle of daily living. Olga Stepanets, owner of the Arthur Murray Natick Dance Center believes dancing is a gift of time, peace and happiness. Whether you embrace the gift of Arthur Murray ballroom dancing lessons yourself, or share it with a partner, you'll enjoy myriad benefits for the mind, body and soul.
Stepanets grew up dancing in Ukraine, where ballroom dancing is taught in school and is extremely popular. After coming to the United States in 1992, she chose to combine her love of dance with a career change and opened Arthur Murray Natick Dance Studio. "Dancing is a way for people to express themselves," she says. "It's truly an artform that involves the mind, body and emotions. The happiness one feels when they dance becomes a part of you."
When you begin your ballroom dance lessons in Natick MA, you may start with the tango, a romantic dance that originated in Buenos Aires over a century ago. Or you can choose a higher-energy dance like the Foxtrot (110-150 beats per minute) or the Cha-Cha, which packs five steps into every four beats to keep you on your toes! But whichever steps you choose to take, ballroom dancing is both an immersion into self expression and a way to take a break from the stressors of everyday life. However, some people are worried about trying ballroom dancing lessons at our Natick dance studio because they are affraid of not being able to learn or looking foolish.
When people understand the true benefits of social dancing, Stepanets said, they can't wait to get started! For example, who can say "no" to new friendships, more stamina and the wonderful feeling of just being happy?
The fact is, everyone can learn to dance! But don't just take our word for it. We invite you to take advantage of Arthur Murray Dance Studio of Natick's new student offer for a complimentary dance lesson with one of our highly trained instructors. People from all levels of dance experience and backgrounds come together for fun and friendship.
We are always excited to welcome new students at our dance studios in Massachusetts. Contact us today and let's get you dancing!
Reserve Your Free First Ballroom Dance Lesson Today
"Arthur Murray Dance Studio in Natick is a wonderful resource for ballroom dance enthusiasts of all ages. The highly skilled teachers are not only experts at what they do but also truly care about their students. There is a close and welcoming community of students, at all levels of experience, who share in the joy of dancing and who encourage and support each other."
Ellen Z., Westborough, MA
"This is one of the best things that my wife and I have done in our lives. Not only are we getting wonderful exercise and learning how to dance, but we are part of a wonderful community and have a whole new group of fantastic friends. I can't say enough about this place and highly recommend it to anyone."
Mitchell H., Natick, MA
"We came for father-daughter dance lessons so we could dance together at my wedding. Olga was amazing! We are not experienced dancers at all. Olga broke down the steps and was an awesome mix of encouragement and no nonsense. I highly recommend Olga for anyone looking to try dancing! She is the best."
Alexandra B.

Ballroom Dance Lessons In Natick, MA
251 W. Central Street #7 Natick, MA 01760
Mon-Fri:

Sat:

10 AM - 3 PM