You Won't Believe All the Benefits of Ballroom Dancing
Today is the day to embrace something fun and new! How about ballroom dancing? You do so much for so many, how about trying a new activity with so many benefits -- just for YOU!
We invite you to join us for a complimentary first dance lesson. Give us an hour and let us show you how much fun it is to learn to dance. At Arthur Murray's nine locations in the Greater Boston Region, we offer a variety of dance programs including wedding dance lessons, competitive dance lessons and many social dance styles.
In only one lesson, you'll be doing more than you ever thought possible out on the dance floor. It's fast, fun and easy. Giving yourself the gift of confidence, fun and new friends is something that will change your life. (By the way, you can give the gift of dance, as well! Find out about Arthur Murray gift certificates. It's the gift that always fits and never goes out of style.)
Take a Chance, Learn to Dance and Enjoy the Benefits!
Burn calories and manage weight

Have fun and feel happy
Increase confidence and self-esteem
Meet new friends and overcome shyness
Enjoy going to social events
Lower depression and self-doubt
Improve memory
Strengthen muscle tone and endurance
Reduce your risk of osteoporosis
Improve your balance, flexibility and coordination skills
What are you waiting for? Contact us today and you could be dancing tonight!
Contact Arthur Murray today to get started with your free first lesson.
The good news is that dancing offers equal opportunity benefits for all. No matter your age, relationship status or profession, you can be dancing after one lesson taught by the extraordinary Arthur Murray trained instructors. And, regardless of who you are or what brings you to the dance floor, you can share equally in so many benefits: physical, emotional and spiritual.
In other words, dancing is great for you — mind, body and soul.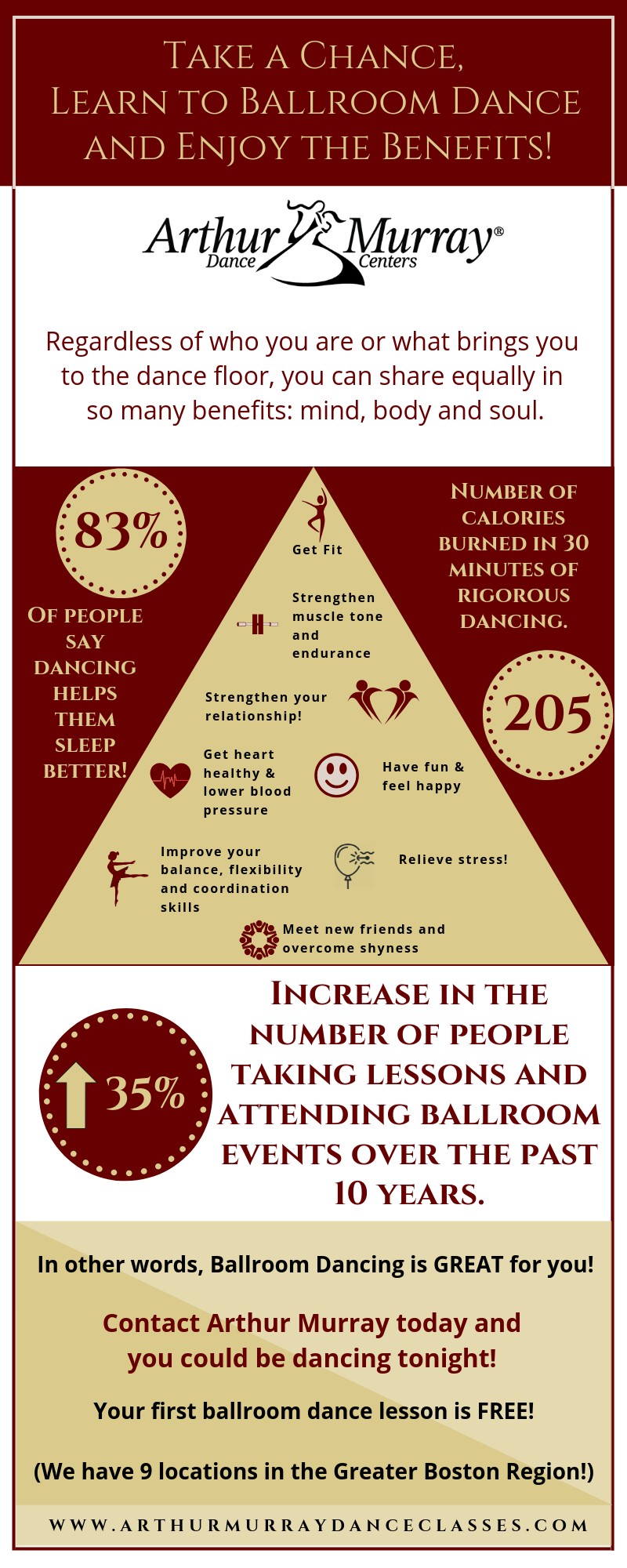 Arthur Murray's Nine Boston Area Dance Studios
Choose the Location that Best Suits Your Needs and Click to Learn More about that Center's Offerings.