Dance School in Cambridge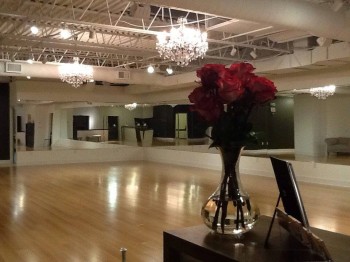 Leave Your Fears Behind and Learn to Dance at Arthur Murray Cambridge Dance Center
Kia Kenney loves ballroom dancing with every fiber of her being. The only thing she enjoys more is to share her enthusiasm and talent for teaching dance with the students at the Arthur Murray Cambridge Dance Center.
Ballroom dance is a wonderful activity for everyone -- at any age. Arthur Murray Cambridge offers many types of social dance lessons for adults and an exciting summer program for youth and teens.
Unlike many other Arthur Murray dance center owners, Kenney didn't grow up a dancer. While comfortable performing on the stage or the basketball court, her social shyness kept her from ever stepping foot on a social dance floor.
"The thing I love most about the Arthur Murray Cambridge Dance Center is that we welcome absolutely everyone and we are committed to proving to all our students that dancing is something everyone can not only do but learn to love," Kenney said.
What's in it for you? There are so many benefits associated with ballroom dancing -- for the mind, body and soul. In addition to increasing balance, flexibility and stamina, social dancing boosts confidence and self-esteem. Further, all of this leads to our ultimate goal. At Arthur Murray, dancing means happiness! Our studio is friendly and welcoming and our students easily meet new people, create new friendships and learn to smile more!
Why not get in on the fun? If you are single, no worries - you will learn even faster with your instructor as your partner and will enjoy our dance lessons, practice classes and parties where everyone dances with everyone!  And couples of every age and preference will enjoy a unique time of shared activity!
Contact us today and reserve your complimentary dance lesson at our Cambridge dance school. A world of happiness, accomplishment and community awaits!
Reserve Your Free First Ballroom Dance Lesson Today
"My wife and I work long hours, and she commutes 100 miles each day. But, we wouldn't miss our mid-week and Saturday lessons for anything. It is too easy to forget to have a date night. This is our date night."
Carl H., Somerville, MA
"Every staff member is a delight. The students are fun and engaged and all clearly love to learn. Everyone is endlessly encouraging and engaging, and there is a strong sense of community - one that eagerly welcomes new people. I can't help but smile every time I walk in the door!"
Laura, Arlington, MA
"I saw that they were having an open house and thought "why not?".. and never left! Kia and the crew really have a way of making you feel both at home and also like a star. No experience necessary! They will make a dancer out of you, all whilst you have the time of your life."
Angie, Cambridge, MA

Dance School in Cambridge
151 Alewife Brook Parkway Cambridge, MA 02140
617-505-1272
Mon-Fri:

Saturday: