Learn to Dance with Arthur Murray
There are so many reasons to learn to ballroom dance! In fact, the list of dance benefits is incredible! At Arthur Murray, we will help you find the perfect dance program that meets your schedule, budget and interests.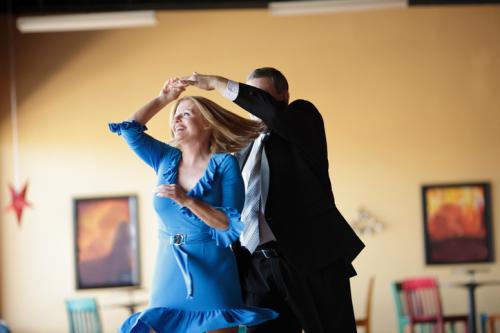 Get Started! 
You will start with your free personal dance lesson to introduce you to our studio.
The Arthur Murray Starter Program is an intro-to-ballroom dance course. During several lessons, students learn the basics of several of the most popular social dances.
You can choose which dances you enjoy the most and continue taking lessons to become more at ease on the dance floor.  Your instructor will plan a personalized program just for you. If social dancing is your focus, your instructor will plan the perfect program. If you'd like to challenge yourself further, we can plan a more aggressive competitive program.
Each week, as a part of your program, students are invited to join others during group dance classes.  We also hold a weekly dance party where you can practice in a relaxed environment with other students.
In addition to our group classes and weekly parties, Arthur Murray holds many local and regional events where dancers can take their dancing to the next level. These competitive events allow you to work on choreography and skills beyond social dancing.
At Arthur Murray, our instructors are skilled, experienced and patient. We will explain the various dance programs we offer and will work with you to personalize a dance program that best meets your needs and desires.
Rest assured, when it comes to learning to dance, Arthur Murray Dance Centers of the Greater Boston Region is the place to do it. With nine conveniently located centers, we are only a few dance steps away from you!
What are you waiting for? Contact Arthur Murray Dance Centers of Greater Boston
today and you will be dancing before you know it!
Sign Up For a Complimentary First Lesson
Arthur Murray's Nine Boston Area Dance Studios
Choose the Location that Best Suits Your Needs and Click to Learn More about that Center's Offerings.