Arthur Murray Burlington Dance School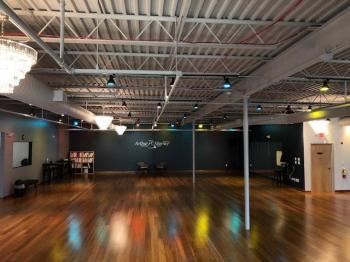 Dream Big, Live Joyfully...Dance with us at Arthur Murray Burlington!
Arthur Murray has been teaching people to dance for over 100 years, and after 30 years of teaching people ballroom dancing in Burlington - we've moved to a beautiful brand new studio in the heart of the up-and-coming area of Burlington.
"Our expertly trained ballroom dance instructors are committed to making you instantly comfortable, with a fun, quick and easy teaching process," said Andrew Ross, co-owner of the Burlington studio. "Whether you've danced in the past, or this is an unknown and you've waiting for years to try - we promise you'll have a blast and feel comfortable dancing with us!"
Did you know that just half an hour of ballroom dancing can burn 200-400 calories - as much as running or cycling? If you're looking for a new and fun way to exercise, help with dancing for your upcoming wedding or event, a fun way to meet people and relax, or adding a an extra splash of romance to your date night with Burlington salsa dancing - you'll find commonality with our awesome students and quickly find that you're not the 'only one' that has been searching for the amazing benefits that Ballroom Dancing has to offer.
Our Burlington dance school has a variety of singles and couples dance lessons for all age ranges of people who all love dance and music!
At Arthur Murray, we offer a complimentary first lesson so you can come in and try us out and see how fun, quick and easy it is to learn how to dance. 
Everyone tells us that scheduling the first lesson, and walking in the door is always the hardest step - but once you start - you'll forget what your life was like before you started dancing. Why Wait?
Reserve Your Free First Ballroom Dance Lesson Today
"Dancing at Arthur Murray Burlington has helped me in so many ways! It has relieved work stress, increased my self confidence and now I am more outgoing and have made a wonderful new group of friends. It also helped me manage my weight. The instructors are great and they are flexible and work with my schedule constraints. Dancing is a lot of fun!"
Fred A., Burlington
"I have always wanted to dance and my first lesson was 'love at first step!' I could feel the music in my feet and dancing allows me to be me. I have fun and have gained confidence in who I am no matter how good or bad I dance. I love what Arthur Murray and the instructors have done for me."
Kurlene F., Burlington
"Dancing at Arthur Murray is SO much fun! No need to feel self-conscious about your dance ability or musical experience. You will feel welcome here and learn quickly. As someone with some physical limitations, it has been amazing what I have accomplished!"
Eric and Melanie P.

Arthur Murray Burlington Dance School
209 Middlesex Turnpike Suite 1 Burlington, MA 01803
Tues-Fri:

Sat: