Ballroom Dance Classes In Dedham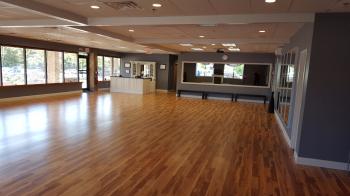 Come Dance...at Arthur Murray Dedham Dance Center
Arthur Murray Dedham Dance Center features amazing instructors in a convenient and a beautiful location that's sure to sweep you off your feet!
Many people would love to get involved in Arthur Murray Dedham's ballroom dancing lessons, but are hesitant to try. Some are shy and many people believe they are far too busy to squeeze in another activity. This is especially true for men. However, once they take the first step they are so happy to meet new friends and become a part of the Dedham dance community.
The community at this dance center, says manager Scott Hannum, is magical. "When you have a desire to overcome objections in life, you make room for success. When it comes to dance lessons, we believe it's a perfect activity for people who say they have no time and are stressed out. Dancing helps you relax and when you love something, you find the time."
Dancing is truly a gift that the ballroom dance instructors at Arthur Murray Dedham is grateful to be able to share with students. The benefits far outweigh the excuses that keep some people away.
Of 11 physical activities considered in a study published in The New England Journal of Medicine, only dancing was tied to a lower dementia risk. If you find that you like dancing more than you expected, make it a regular part of your life. To reap the full body-conditioning benefits of ballroom dance, dance for at least 30 minutes, four days a week... if you dance every day, you may even lose up to a pound a week!
Take advantage of our new student offer at Arthur Murray dance schools in Massachusetts. Contact us today to reserve your complimentary dance lesson with one of our highly trained, patient dance instructors and begin your ballroom dance lessons in Dedham today. Give us one hour of your time and we'll introduce you to a whole new world of friends, fitness and fun!
Reserve Your Free First Ballroom Dance Lesson Today
"Wonderful instructors, wonderful experiences!"
"Dancing at Arthur Murray has been an amazing journey, both challenging and fun. It's so rewarding to look back and realize how much progress you've made even in the first few weeks or months of dancing. Everyone owes it to themselves to take the plunge and see what fun dancing is!"
"I have really enjoyed my dance experience at Arthur Murray. The lessons offer a chance to get away from the rest of the busyness of my life."