Simple Steps to Creating Your Best Bride and Groom Dance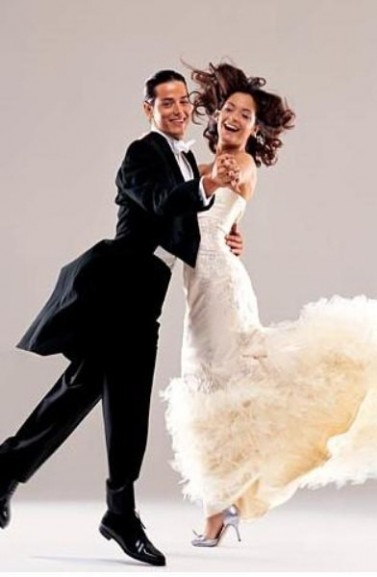 With many bride and groom dances going viral in the past few years, it can feel like there is a lot of pressure to create the best wedding dance possible. If you are feeling stressed, here are some wedding dance tips to ensure you have a memorable and fun first dance!
Don't be afraid to be different
Everyone is used to a slow, romantic bride and groom dance. If this is your style, Arthur Murray Dance Centers can help you with a beautiful Waltz or Rumba. But maybe you feel like changing it up and choosing a different dance style to really show your moves. Look for upbeat songs that can be turned into a jive or a swing, and you'll quickly get the party rocking!
Practice even if you don't plan on dancing to a choreographed routine
Knowing even a few simple ballroom dancing steps can help you feel confident for your wedding dance. You don't have to do a big, choreographed number, but if you work with one of the outstanding dance instructors at Arthur Murray, you'll be able to create a fun sequence of steps that is easy to remember and even easier to execute.
Don't forget about your shoes and accessories
Brides take note: it is always a good idea to change into different shoes for your wedding dance. Not only will you be comfortable and able to move around more freely, you won't have to worry about twisting an ankle. If you do choose different shoes for the reception, try to use the ones you've practiced dancing in! Further, if you are going to switch to a different sized heel, make sure your skirt and/or pants are easy to pin up so you don't trip.
Get the bridal party involved
Let them have a little bit of the fun too! The opportunities for dancing with the bridal party are endless. You can have a conga line, choreograph a show or have a dance battle! Even if it is only a minute or two of your dance, bringing everyone together is a fun way to kick off your reception. It's also a great strategy for couples who are nervous about their first dance.
With these tips in mind, you will have your entire wedding reception on the floor dancing with you by the end of your dance! Considering that the average wedding has 165 guests, it's normal to feel nervous with all eyes on you. To chase those nerves away and make your first wedding dance a blast, call Arthur Murray to request your complimentary wedding dance consultation. We'll help to make your bride and groom dance a wonderful memory that will last a lifetime!