World of Dance Wows On-Screen, Prompts Viewers to Take Up Ballroom Dancing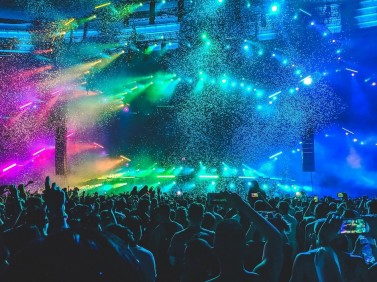 A new episode of World of Dance will reveal who makes it through to the next round or who will inevitably be sent home. All dancers work to wow the judges for that million-dollar prize. Last week we did not see a single dancer go home, leaving this week open to a double elimination, with two teams possibly going home.
Dancers from across the globe come and prove their skills to the judges in the third night of qualifiers. Jennifer Lopez, Derek Hough and Ne-Yo will give their score for each performance based on the show's criteria, including presentation, performance, creativity, technique and of course choreography. In each division, dancers can win up to five points from each individual judge. Earning a minimum of 80 points will allow participants to move onto the Duels, the next stage of the competition.
With over 70 different kinds of dance groups eager to prove their talent to the judges, dancers needed to be sorted into groups primarily based on age. Juniors consists of dancers 17 years old and younger with about 1-4 dancers per team. Junior teams are the same age but with 5-15 dancers. Upper teams are the same but for dancers 18 years and older. In case you didn't catch last week's episode, here is where each team is ranked going into the duels.
Josh and Taylor (Junior):
These two did a great hip-hop dance that really amazed the judges. They were together and seemed to play off of each other effortlessly. Their scores reflect the judge's appreciation. Jennifer gave them a 92.0 while Derek and Ne-Yo both gave 94.0, making their overall a 93.3.
The Rascals (Junior Team):
If there was one thing that this team had an abundance of, it was personality. Their presence and energy on the stage made sure that nobody in the audience was sleeping. Derek found them engaging but Jennifer Lopez warned them against regular performances with this much energy. Lopez and Ne-Yo gave them an 83.0 while Derek gave them an 88.0, leaving their overall score an 84.7.
The Ruggeds (Upper Team):
This breakdancing team was fun and entertaining to watch but the judges thought they needed to work on their choreography more. Hough pointed out that a couple of times the boys were dancing in sync and that it was important they worked on that. Ne-Yo saw the potential and stated that it was up to them to do even better next time. Their scores were given by each judge. Lopez gave them an 83.0, Ne-Yo gave them an 82.0 and Derek Hough gave them an 85.0. This leaves them with an overall score of 83.3.
Elektro Bots (Upper):
Their name should give you a clue as to what kind of dancing these people do. Their robotic moves impressed everyone who was watching. Ne-Yo even commented on the infusion of personality in a style of dance that usually lacks it. Their scores reflect their memorable performance. Lopez gave them an 88.0, Derek an 86.0 and Ne-Yo with the highest at 89.0. Their overall score was an 89.0.
Michael Dameski (Upper):
This solo dancer, from Australia, was the star of the night it seems. The judges were absolutely amazed with most aspects of his performance. Lopez was astounded by the beautiful but precarious nature of his dance, keeping people enthralled. Derek was impressed with the more technical aspects, like his technique and strength. The judges' scores definitely reflect their approval with their scores. Both Lopez and Hough gave 94.0, while Ne-Yo gave a 90.0. This leaves their overall score at a 92.7.
Lock N LOL Crew (Junior Team):
This hip-hop team put on a high energy and very entertaining performance, but judges were skeptical of whether this would be enough to keep them on the show for much longer. Jennifer saw the merit in their high entertainment show but warned them they would have to bring something different next week. Ne-Yo and Derek both impressed with their vibrant costumes. Lopez gave them an 80.0, Derek gave them their highest score of 84.0 and Ne-Yo gave them their lowest of 79.0. Their overall score of 81.0 just allows them to move onto the duels.
With all these excellent teams still in the running, next episode they will be competing in the duels for that million-dollar grand prize. It will definitely be an episode worth watching.
Intrigued by the idea of social dancing? Give it a try! Arthur Murray is offering a free,  first dance lesson. Contact us today to schedule your time in the dance floor soon.