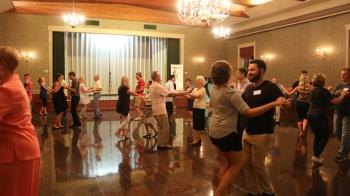 "In the beginner's mind there are many possibilities, but in the expert's there are few."
—Shunryu Suzuki
Even though new students are eager to learn, the fear of awkwardness and embarrassment can be hard to overcome. Rather than being seen as unskilled or unknowing, students at Arthur Murray are cherished and welcomed for many reasons.
May we suggest learning all the reasons why – first hand- at one of Arthur Murray's nine locations in the Greater Boston Region? In fact, your first lesson is FREE!
Contact us today and you can be learning
why we say people "walk in and dance out!"
In her book, The Sense of Wonder, Rachel Carson said "A child's world is fresh and new and beautiful, full of wonder and excitement. It is our misfortune that for most of us that clear-eyed vision, that true instinct what is beautiful and awe-inspiring, is dimmed and even lost before we reach adulthood."
Dance is a way to rekindle excitement and see the world as new and beautiful. It allows us recapture the sense of wonder that makes life worth living.
Rather than focusing on the fear of being a newbie, at Arthur Murray, we consider the positives associated with being adventurous and learning about something new and different!
Beginner's Mind
The concept of "beginner's mind" is simply having an attitude of openness, eagerness, and lack of preconceived ideas. Even at an advanced level, it helps to have a beginners mind.
When you walk on to the dance floor for the first time, you are a clean slate–a blank canvas. No baggage and no bad habits. Eager to learn.
We love helping students find the dance expression they are most comfortable with, at a pace where they'll thrive, in an environment that is welcoming and not judgmental.
Each student is an individual work of art and we approach each as a unique person with their own ideas, challenges and talents. Some people learn quickly, others take a more methodical approach to new things. Our skilled instructors enjoy helping students identify the dance expression they are most comfortable with, one step at a time.
Nerves are a good thing!
When you feel anxious or nervous, you typically tend to pay closer attention, ask more questions, be in the present moment, and practice more. A little bit of nerves never hurts. It keeps you on your toes. Literally!
With dancing front of mind, you progress at a rapid pace and continue to improve over time. This builds confidence which leads to getting more involved, attending group classes and practice parties…and having fun!
New students bring new energy and enthusiasm to the dance floor.
How many people talk about all the great things they do or plan to do? But do they actually do anything?
Then there are those that are too shy, too scared and too comfortable to get off the couch.
We all have aspirations and we all get comfortable. That's OK. But sometimes we need to stop talking and start doing. It's when we step out of the comfort zone and onto the dance floor that we are truly alive!
If you're reading this, you may very well be one of those people. You are looking to take the first step to making meaningful change and putting words into action. Putting one foot in front of the other on the dance floor…and in life. You are someone others want to be around for your positive energy and desire to try new things.
And, by the way, actually "being" a new student beats thinking about it and never doing it.
So bring your beginner's mind to a studio near you. Contact one of our nine Boston area centers today to reserve your free first lesson.