The Perfect Gift for Father's Day is One Click Away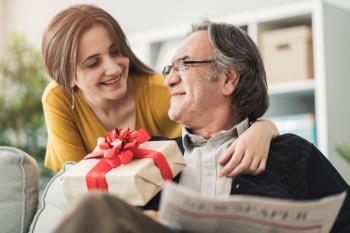 Father's Day is fast approaching. Did you get Dad a gift yet?
No worries. This year, Arthur Murray is here to save the day with the perfect gift for Dad. Ballroom dancing lessons are the epitome of happiness, fun and good health all wrapped into one envelope or email!
Buy Dad a Gift Certificate for Ballroom Dance Lessons!
In an effort to combat the same old gift syndrome, online and bricks and mortar stores are pulling out all the stops with "Gifts for the Dad that Wants Nothing," "Most Unique Dad Gifts" and "The Top 10 BEST Gifts Dad never knew he wanted."
The lists are endless. And while there are likely lots of dads that would love a set of "meat claws," you can do better! We can help.
An experience is where it's at. We all know that the one thing that we all want and need is the hardest to come by. Time. Especially time enjoying what we love to do. Giving the great fathers in your life a gift certificate for ballroom dance lessons at Arthur Murray is the equivalent of saying "you deserve to be happy!"
Dance lessons are a great way for men to spend time with their partners especially when they haven't had the time to do more of it. It's a gift that gives them a chance to break out of the old routine, share some laughs, have fun and learn something new. And we all know about the health benefits dance offers off the dance floor. This gift gets better and better!
Contact one of our nine Boston area Arthur Murray Dance studios to learn more and get Dad a gift certificate for the best gift ever!