Summertime Has You Hot and Bothered? It's Cool on the Dance Floor!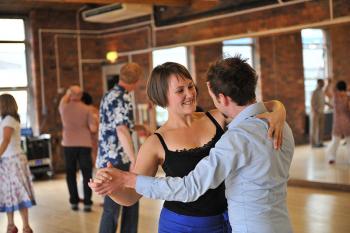 Hey baby, it's hot out there! From the Northeast to California, and all states in between, we are all feeling the heat this summer.
So how do you beat the sweltering temps? Sure, indoor activities are a welcome escape. But there's more to hanging on the couch and mindlessly passing the time binging on Netflix. It's only August so there's still plenty of heat on the way.
While there are plenty of ways to enjoy time inside this summer, at Arthur Murray, we know firsthand that none are as fun and rewarding as social dancing!
Seriously, if you schedule a free first lesson soon, you can start learning to dance and you'll be twirling on the dance floor this fall.
There are so many popular dance styles to choose from, you'll never get bored. From the Foxtrot and Waltz, to the Cha Cha, Merengue and the Hustle, you can get in the groove quickly thanks to the experienced and patient instructors at Arthur Murray. 
Looking for a bit more heat? We can help with that, too! Learn to dance the sensual and seductive Tango!
Regardless of the dance style you choose, dance is also a fun way to get fit this summer, without hitting the gym. When it's hot out, movement can feel harder and your body can fatigue faster. At Arthur Murray, we have some easy steps you can take, on the dance floor and off, to make the heat less taxing on your body. That way, nothing will keep you from dancing your best.
COOL DOWN First
Even though the studio is air conditioned, you can get hot. You're moving after all, not lounging.
Always remember to cool down before you start. Cooling your skin with a cold wet towel, or even a tshirt straight from the freezer, is not just refreshing, some say it even improves athletic performance.
Stay Hydrated
We have heard it so many times. Drink water. We know it's good for us, flushes toxins and helps keep the effects of the heat at bay. But often, we wait until we are thirsty to drink water.
And by that point, it's too late!
According to Dance USA's Taskforce on Dancer Health, "a decrease in even one percent of your body weight from dehydration will impact your dancing. Lose three percent, you become susceptible to heat cramps, heat stroke and heat exhaustion."
The Taskforce recommends drinking 7.5 to 10 ounces two to three hours before dancing, 6 to 7 ounces 10 to 20 minutes before, and 6 to 8 ounces every half hour while you're dancing. If you're working hard for a long stretch, it's important to replace the electrolytes like sodium that you're losing through sweat.
Wear The Right Clothes
There's plenty of dance appropriate clothing available in light, sweat-wicking fabrics. Just be sure it's comfortable!
The bottom line is don't sweat it!  Beat the heat and call one of our nine Boston Area Arthur Murray centers today and schedule your first cool lesson. Come on in, the weather is fine! Get started today!