Strengthen Your Relationship with Ballroom Dancing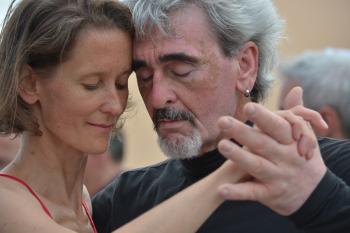 Even if your dreamy, romantic relationship is the envy of your friends, trying new things together only strengthens your bond!
And, if you are looking to rekindle the flame or spice things up, rest assured, it won't happen by itself.
Ballroom dancing is the answer for couples of all ages and all backgrounds who are looking to enjoy time together! Of course, you each have your own interests and hobbies. Some may overlap. However, trying something new together promises to add a wonderful level of excitement and discovery.
Social dance opens the door to improved communication, the cornerstone to strengthening your relationship — no matter what stage of life you're in. And, while ballroom dancing offers opportunities for personal development, it also brings you closer together. Literally!
At Arthur Murray, we know there are countless ways dancing will strengthen your relationship because we see it every day! Try us out! Contact us today for a FREE first dance lesson.
On our dance floor, you'll find:
1. Laughter, Laughter and more Laughter
The ability to laugh at yourself and not take life too seriously comes naturally for many. For some, it's like learning a foreign language. Laughing eases the pressure of "getting it right" the first time. It helps quiet your inner critic; you can't hear it when you're both cracking up!
2. Meeting other couples has never been easier.
Many people have friends their significant other wishes would move away. FAR away. It's not easy to make friends as adults. While Arthur Murray dance lessons are private, being an Arthur Murray dance student has its privileges! All students are invited to weekly group classes and social dance gatherings where you can meet other couples who are exploring a new hobby just like you.
3. Time together is not a luxury; it's a necessity.
So you made "spending more time together" a New Year's resolution. How has that been going? More time does not magically appear. The truth is: unless you make each other and time together a priority, it's unlikely to happen. Life gets in the way. We're all too busy, going too fast and running in too many directions. As a result, we spend less and less quality time with each other.
Ballroom dance lessons gives you the opportunity to schedule time together. Put "dance lesson at Arthur Murray" on your calendar. Leave the office on time. It's a date night that will give you something to look forward to all day!
Arthur Murray has nine convenient dance center locations in the Greater Boston Region.
Contact us today for your free lesson. Live, Love, Laugh and Dance!