Ready to Learn to Ballroom Dance? Bring a Great Attitude and Some Questions for Your Instructor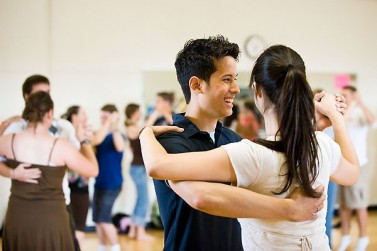 There are few activities more fun to learn than ballroom dancing. And, as odd as it may seem before you've gotten anywhere near a dance floor, you are soon going to wonder why it took you so long to sign up for your first lesson!
However, just like any other activity worth your time and interest, there is plenty of information to learn so that you get the most fun out of this exciting new hobby. Heading into your first complimentary lesson at Arthur Murray armed with questions will help calm your nerves and ease any stress you may be feeling. (By the way, it's common to have some anxiety before learning anything new. Why? Because you generally don't know what to expect, right? Ask these questions upfront and you'll be able to relax and get the hang of dancing during your very first lesson!)
Question: Can I choose which dance I'll be learning first?
If there is a particular dance you wish to learn more about, you should absolutely discuss it with your instructor. At Arthur Murray, we are experienced in teaching all types of ballroom dance. Some dances are perfect for beginners and we like to start with these because they build confidence and teach basic dance moves. But again, if there is a particular dance you are interested in learning, be it swing, salsa,waltz, tango, foxtrot, Viennese Waltz, quick-step, cha-cha, samba, rumba or jive, just say the word!

Question: Is there any particular clothing I should wear to my dance lessons?
We want you to feel comfortable so you can focus on the instructions and not your outfit. Wear comfortable closed-toe shoes and loose fitting clothing for your first several dance lessons. Once you decide that dancing is for you, we will guide you with regard to buying special dance shoes.
Question: How can I avoid injury?
Dancing is a form of cardio! It's important to do some basic warm up, including stretching, prior to hitting the dance floor. Pulled muscles are not fun and we don't want you to get injured. This is about having fun and maybe obtaining some of the fitness benefits of dancing. So, prepare your body and your mind for an evening of fun and exercise!
Ready to get started with your free lesson at Arthur Murray? We are ready to welcome you to the wonderfully social and fun world of ballroom dancing. Contact us to today to reserve your first dance class.