Take Out Quiz: What Wedding Song Should You Dance To?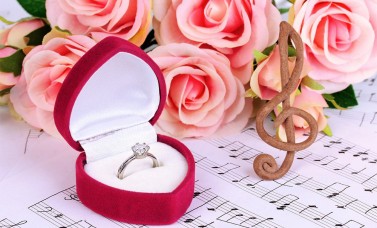 Summer is one of the most popular times to get married and each weekend an average of 44,230 weddings take place all over the country. If you are one of the lucky getting married this summer, it is safe to say that there are plenty of last minute details to figure out before the big day.
One detail that may have gone forgotten is you and your future spouse's first dance. If you haven't decided on what song to dance to, take our quiz and our dance instructors will help you out!
How did you and your future spouse meet?
Through a mutual friend.
Online.
At work.
At a bar/restaurant/night on the town.
What is your favorite activity to do together?
Go out with a group of friends.
Go on adventures and post all over Instagram.
Stay in and watch a movie together.
Cook a delicious meal.
What do you love most about your mate?
Their kindness and giving attitude.
Their adventurous spirit.
How they complete you.
Their humor.
What is your favorite music genre?
Oldies.
Classic rock.
Anything on the Billboard Top 40.
Country.
Where do you want to go on your honeymoon?
The Caribbean.
Europe.
Southeast Asia.
A road trip across the United States.
If you answered mostly As:
Your song should be: What a Wonderful World by Louis Armstrong
This classic love song is all about a wonderful life with your better half. Everyone at the reception will love to hear Louis Armstrong's raspy voice while you see fields of green, red roses too….
If you answered mostly Bs
Your song should be: Fly Me to the Moon by Frank Sinatra
You are getting ready to embark on the adventure of a lifetime with your partner. Who knows, maybe you'll make it to the moon one day.
If you answered mostly Cs
Your song should be: Can't Help Falling in Love — Elvis Presley
Even though wise men say, only fools rush in …. It's true that you cannot help falling in love with your spouse every day of your life. This classic song is simplistic and powerful all in one.
If you answered mostly Ds
Your song should be : I Cross My Heart– George Straight
You've made a promise to each other, and now it is time to finalize it by crossing your heart. Straight's country twang will set the stage for a great wedding reception and a life of love.
Let our ballroom dance instructors take the lead with you when it comes to your first bride and groom dance! No matter if you choose one of our suggestions, or want a slow and sultry rumba or quick and feisty jive, we will be able to create a wedding dance for the memory books!
Come learn to dance at our Arthur Murray studio today, call now and a dance instructor will teach you all the moves!