NBC Boston Features Arthur Murray Ballroom Dance Lessons on The Hub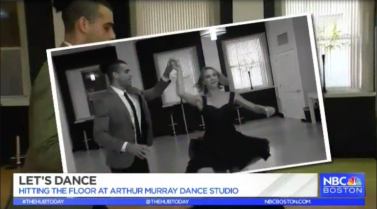 Are you moved by movies like La La Land? Are you tempted by television programs like Dancing with the Stars and World of Dance?
Don't be shy! You can get into the groove of ballroom dancing with the assistance of the patient, experienced instructors at Arthur Murray Boston Area Dance Centers.
Arthur Murray Boston was recently featured on NBC Boston's The Hub when reporter Erica Mansfield donned her dancing shoes and hit the floor to learn some salsa, swing and tango!
She asked Arthur Murray Boston owner Kristen Belcher what makes dancing so cool?
"Dancing with the Stars made dancing cool again," Belcher said. "It brought it to a younger generation. People see images in the movies and that's what they want to do while they're here."
Arthur Murray teaches any and all types of social dancing; Belcher said Latin dances such as salsa, bachata and merengue are very popular with ballroom dance students, as are swing and the Argentine tango.
Check out the NBC Boston video. Mansfield concluded her lesson by saying "This is an absolute blast and everyone should try it!"
Ballroom dancing lessons make the perfect gift and they are a great way to have fun, get in shape and meet new friends.
Contact Arthur Murray today at arthurmurraydanceclasses.com to learn more about your local Arthur Murray dance center and to schedule your FREE first lesson or to purchase holiday gift certificates.