Looking for Romance? Dance!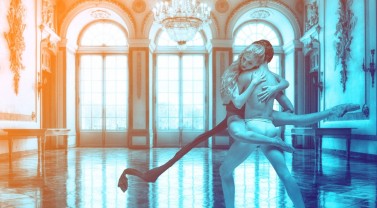 Winter is in the rearview mirror and spring is here! It's time to take up a new activity and we suggest the you learn to dance — for the romance of it!
Yes, indeed, dancing is an incredibly romantic activity. After so many months cooped up in the house, why not get out and celebrate life with the one you love? It's much easier than you may think. Learning to dance takes practice, like everything else. However, at Arthur Murray, we have dedicated, patient instructors who are ready to help you shed your couch potato attitude and embrace time together just for you.
There's Music!
Imagine being out on the dance floor, the music is playing, and you and your partner are holding each other close. You feel each other's heart beating (or maybe it's the butterflies??) And as you learn some different dance steps, you begin to remember why you love spending time together
Ready? Set? Connect!
When you are home watching TV, admit it, you are on opposite sides of the room staring at the set. Perhaps you talk a bit, but there is not much connection. On the other hand, as you lock eyes and hold hands, you feel yourselves in sync. The connection is palpable.
Science!
There have been many scientific studies that show dancing leads to romantic feelings thanks to the release of oxytocin and serotonin. Make no mistake about it: love is the combination of brain chemicals. Of course, actual hugging and holding each other on the dance floor helps to release these feel-good substances. You can actually feel your relationship and bond getting stronger. How romantic!
Non-Verbal Communication
When you speak without words, you have to pay closer attention to your partner. You can't look away and rely on your sense of "hearing." You must focus on seeing and feeling. Dancing relies on non-verbal cues and all that touching and smiling brings out the best in you.
The truth is, dance lessons are truly romantic because it's a time you focus on each other. Life has so many other responsibilities that we hardly ever focus on our relationships. When you are moving on the dance floor with your partner, the world can melt away and it's just the two of you.
Let's get you started! Contact Arthur Murray today to schedule your complimentary first dance lesson. Bring on the romance with dance!