Come One, Come All! It's time for Arthur Murray's Annual Teach A Thons!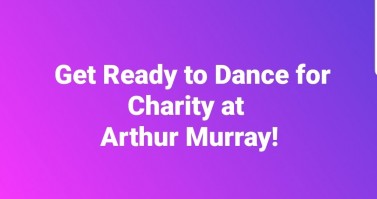 The Arthur Murray Dance Centers of Boston, Burlington, Cambridge, Manchester and Weymouth will be teaching from noon to midnight on specialty designated dates to support great charities.
Sign up for a lesson between noon and midnight on Jan 25 or 26 at our Arthur Murray location in Boston, Burlington, Manchester, NH, or Weymouth.
All proceeds from these events will benefit the Carroll Center for the Blind, Battlefield to Ballroom and Habitat for Humanity Boston.
The Arthur Murray Dance Center in Cambridge will also be holding a 12-hour teaching party, the Pajama-Rama-Thon, on Friday, Jan. 25, to benefit the Michael J Fox Foundation for Parkinson's research. Sign up for a private lesson between noon and midnight.
If you've been thinking about taking dance lessons, want to enjoy a taste of ballroom dancing and all its many benefits, or simply would like to do something for a worthwhile organization, join Arthur Murray Boston Region at one of their annual Teach A Thon events.
Each 40-minute personal lesson is $100.
This event is open to the public.
Singles and couples welcome.
No experience necessary!
Lessons will be personalized to your interests! Try dancing for the first time, improve your current skills or explore a dance of interest. Learn more about the dances Arthur Murray teaches and all about the many benefits dancing offers — mind, body and soul!
Call or email to schedule your personal dance lesson today.
Boston – 617.426.3335 and [email protected]
Burlington – 781.229.7970 and [email protected]
Manchester – 603.624.8857 and [email protected]
Cambridge – 617-354-0808 and [email protected]
Weymouth – 781.812.0634 and [email protected]
Remember, all proceeds go to charity but the fun you have will be yours to keep!