Hey Couch Potatoes! It's Spring! Let's Dance!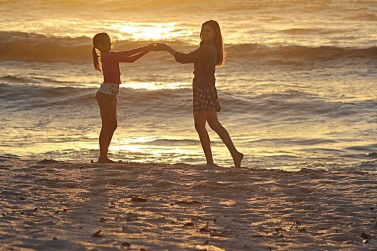 The winter months are dreary, cold, and kind of miserable in a lot of ways. When it's cold and icy, most people stay in. They don't want to go do anything besides cuddle under a blanket. But now that spring is here, everything is bright and warm! It's time to start having fun outdoors and going to different activities. That includes dancing!
When the weather gets warm, it's natural to think about new activities. This means looking for ways to meet new people, possibly get in shape and simply embrace the warm weather. Additionally, you may very well find yourself invited to weddings or headed out on vacation.
Don't be one of those people who sit out on the sidelines! You definitely want to hit the dance floor and really enjoy yourself. Even knowing a few dance moves can make you feel more confident about stepping out on the dance floor.
Now, we get it. Some people think they are not "dancing" type of people. Maybe you think you're klutzy or that you don't have time.
When you think about it though, those are excuses that keep you planted on the couch in front of the TV. Make this season the time you embrace life! Give dancing a chance. We promise you that no one really has two left feet! And, our dance instructors have the patience and skills that will help you feel confident in no time!
Let's get started! Spring is upon us! Schedule your first free lesson at Arthur Murray Dance Centers today.