It's Never Too Late to Learn to Give Thanks for All Things Big and Small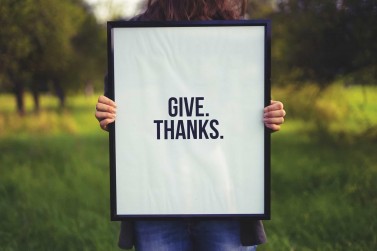 We've all heard the saying: "Don't sweat the small stuff, because it's all small stuff."
We all certainly fret about plenty that isn't worth our attention, that's for sure. It can even seem as though we spend so much time worrying that we focus much less on the wonderful things in our lives. Of course, we celebrate major milestones. But, when you think about it, there are so many things to smile about, as well.
So, on Thanksgiving, as you sit down with loved ones, focus on all things — big and small — and leave the worrying (about calories, for example) for another day.
Thanksgiving is a day for gratitude, yes? We spend it with family and friends and, of course, we are oh-so-grateful for those we love.
Here are some other things worthy of your attention and gratitude.
You are alive. Take that in. When you wake up, marvel at your warm bed and the roof over your head. Be thankful for your favorite cup of coffee or tea waiting to be brewed. Not everyone is as fortunate.
Water. In our civilized society, we take potable water for granted. Don't. Did you know more than 780 million people in the world don't have access to safe drinking water? Drink up and be thankful you can.
The beauty in the world that's FREE to enjoy. The sunrise and sunset. The magic of trees, flowers, and wildlife. The wonders of the ocean and the feeling of wind on your face. These are the things that remind us why it's worth being alive. Don't ignore them…relish them.
Hugs, smiles, and silent codes. We all interact with so many each day. Some we love and we wish we could hold them just a bit longer each time we say goodbye. Some we may not know at all, but we know how much a simple smile is worth — to give and receive. And, a few we know very well. With these loved ones we don't even need to speak. We see and we know.
Our ability to learn. Until the day you take your last breath on earth, you will always have the opportunity to learn something new. Don't waste a single one of those opportunities. Expand your mind. Expand your circle. Expand your activities. Always be learning.
At Arthur Murray Dance Centers in the Greater Boston Region, we want to take this time to wish you a joyous Thanksgiving filled with all the things that make you happy. We look forward to the day when we may meet on the dance floor. Until then…be happy, safe and healthy.