How to Get Him on the Dance Floor for That Special Wedding Dance!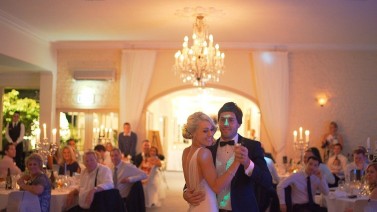 Do you find yourself dancing the night away with your girlfriends because your guy is too shy to boogie? Does he say he has two left feet?
That may be fine at other people's weddings — but not your own!
Just because a lot of guys would choose a trip to the dentist over dance lessons, you don't have to give up on your dream of floating across the dance floor when they introduce you as Mr & Mrs.
Many women wait for years to convince their boyfriends (and husbands) to try dancing.
But we know you don't have that kind of time
Getting sappy and offering ultimatums while trying to convince him rarely works. So what does?
Here are some proven tips to help ensure you and your groom get to the dance floor on your special day.
The key is to get your partner to the first lesson! We can help get you there.
The first step is to check out the options in your area and locate the best dance studio with the most competent and patient instructors. Look no further than Arthur Murray, where you can take a free lesson!
Next, you'll want to casually mention the many benefits of taking dance lessons together. Planning a wedding can be stressful and dancing is a great stress release, for both of you.
It's also a fun way to exercise – and we all know no one likes to exercise if it's a bore or a chore. Dance lessons are also another opportunity for you to practice those ever important communication skills. While he may not be the romantic type, a few twirls on the dance floor will surely bring you closer together. Literally!
Now if he is still not convinced, it's time to negotiate! Just think of it as an opportunity to hone an important marital skill. Never underestimate the power of subtle persuasion and negotiation. Tell him you'll gladly see that superhero movie, sci fi action flick or rock concert if he'll join you for just ONE dance lesson.
Come in for one free lesson and leave the rest to us. Just remember to compliment and encourage him, assure him he looks great and express your appreciation for giving dance lessons a try.
Contact the experts at any one of Arthur Murray's nine Boston area locations. Schedule your first free lesson to get the party started.