Health Benefits of Ballroom Dance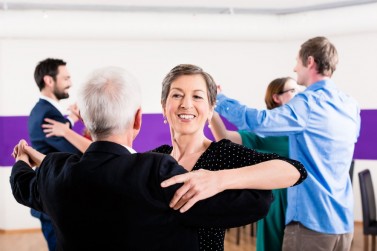 Did you know less than 5 percent of American adults participate in physical activity each day. It's true! Plus, when you consider that only one in three adults receive the recommended amount of physical activity each week, it's easy to conclude we simply rather do just about anything other than strenuous physical activity. Why? Because it's often boring!
It's also true that most people have never tried ballroom dance as a physical activity. Doing the swing, foxtrot, cha cha, and tango can provide a whole host of physical benefits that you may not ever consider. Here are some of the best benefits you'll get when ballroom dancing.Muscle toningGetting out on the dance floor will help you develop strength in areas you didn't think you could ever strengthen. The repetitive motion, along with the dancer having to resist their partner's body weight, will help tone the muscles in the arms and legs.
Weight management
There is not one dance that won't get your heart pumping when it comes to ballroom. From the feisty swing to the fiery samba, each dance will burn calories and fat. The best part about ballroom dance is that you won't even notice you're working out; you'll be having too much fun!
Mood uplifting
It's hard not to smile when dancing! Once the music has you going, you'll instantly be in good spirits. If you are suffering from a lousy mood, low energy and overall gloominess, try out ballroom dance and you'll soon be smiling again.
Boosts bone and joint health
Dancing is a weight-resisting activity, which means that it can help to boost proper bone health and reduce excess tension on joints, more specifically the knee. It is also helpful if you are introducing your body to exercise since it is a lower impact activity that won't wear you out too fast, unlike jogging or biking.
Increases body conditioning
All of these benefits increase a person's body conditioning, including improving heart health, lowering the chance for diabetes, and promoting lung capacity. Known as body conditioning, these factors help people live a more bountiful, healthy life.
There are plenty more benefits that come the minute you set out on the dance floor. The most important one is that you'll have FUN! Making new friends and trying out a new activity is great for the mind, body and soul. Take a chance and learn to dance!
Contact Arthur Murray today to schedule for first lesson. It's on us – 100 percent complimentary!