Attention Grooms: Are You Ready for Your First Dance?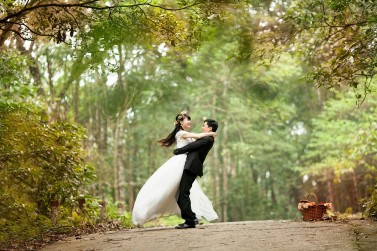 It's a moment many women dream about and many men dread. When the moment comes and you are introduced for the first time as "Mr. and Mrs," you both will need to put on your smiles and take to the dance floor.
Arthur Murray Dance Centers wants to make sure you are ready! Don't worry, we have helped countless couples get ready for their big day.
While the waltz and some other forms of dance might seem simple, it does take more than one lesson to get really comfortable with them. That means you need to start your dance lessons as soon as you can so you have time to learn the basics and learn how to make it look effortless.
The truth is guys, while most movies and TV shows would have us believe that only the groom is nervous about dancing, the bride might very well be concerned about it, too. One great way of bonding and relieving some stress before the big day is to take dance lessons together! Imagine how impressed your guests will be when the two of you bust out a perfectly performed merengue or tango.
Contact Arthur Murray today to reserve your free dance lesson. We will help you create a memory that will last a lifetime!