Let's Get this Party Started! Get Your Wedding Guests Out Onto the Dance Floor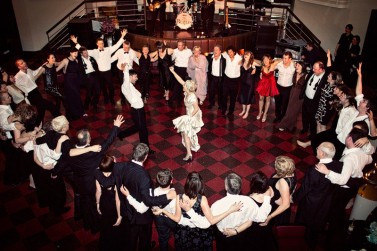 You've put a lot of time and effort — and money! — into planning the perfect wedding reception. There's one thing left to do: make sure your guests have a wonderful time! Here are some great ideas to get the party started in style.
Hire a Great DJ
Once you've chosen a DJ or band, you may feel inclined to offer a list of songs you want to hear at your wedding reception. This is fine, however, don't micromanage. If you've chosen someone who knows how to keep a party jumping, let them do their thing. Focus on enjoying yourself and let the DJ do his or her thing.
Delay Your First Dance
This may sound counter-intuitive. After all, it's the first dance, right? Yes, it is. However, by inviting your guests onto the dance floor as soon as the reception starts, you will generate energy and excitement about the party. (Your first dance will still be your first dance as a married couple, but there's no reason it can't wait a bit so everyone joins the party.)
Get Creative
Line dances, conga lines and games all encourage participation. Also, bring in an Arthur Murray instructor to teach your guests something fun. You can even do a choreographed jive or swing or other fun while everyone from the bridal party pulls people to the floor.
Dancing is fun — no matter what the occasion. However, at a wedding, it's especially important to get your guests out of their chairs and onto the dance floor. Follow these tips and you'll be sure to host a reception that everyone remembers for years to come!
Contact Arthur Murray to request a free first wedding dance lesson today and find out how we can help spice up your reception with dance!