Get In Shape with Ballroom Dancing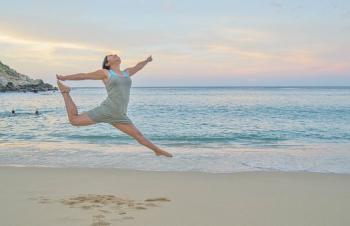 Spring is here and, we wonder, how is that New Year's resolution to "get in shape" going for you?
It's time to embrace a workout that will encourage you to be more active. Have you considered ballroom dance lessons?
Ballroom dancing is not only heart-healthy and great for kicking your fitness routine into high gear, it's also one of the most social activities. In fact, dancing is a workout you can do with your significant other or bestie — you'll both get moving, burn calories and learn something new. The benefits of ballroom dancing are amazing!
Getting Started
In order to stick with exercise, it has to be something you like to do. If you don't enjoy the activity, you won't do it for long, will you?
Does your current work out (or, let's be honest, the many you have tried to date) make you happy? Do you look forward to doing it? If you are like many people, you know exercising is good for you, but it often feels like a means to an end.
This time of year, when the weather is supposed to get warmer, how many times have you told yourself: "I have to exercise to get fit and lose the winter weight!"
If exercise feels like something you have to force yourself to do, it stands to reason that you won't want to do it! Stop punishing yourself and start having fun! Consider a workout that can help shed some pounds and get you ready for the warmer weather!
Dancing is a Great Workout Because…
When you increase your heart rate, it can be a good form of aerobic exercise. This is great for your heart and weight loss routine.
When you do aerobic exercise, you'll burn calories. Therefore, just get moving and shed some pounds!
With shows like Dancing With the Stars and So You Think You Can Dance in full swing, dancing is now officially one of America's favorite pastimes. There is even National Dance Day on July 27, to "encourage Americans to embrace dance as a fun and positive way to maintain health and fight obesity."
Dancing is a great option for people of all ages, shapes and sizes. And, it's not just good for you physically. The emotional and psychological benefits are a bonus!
At Arthur Murray, we offer many types of dance lessons. Fast and slow, romantic and fun! There is something for everyone on the dance floor at Arthur Murray. And, we have nine locations in the Greater Boston Region so there is definitely a dance floor near you!
Contact Arthur Murray today to reserve your free first lesson and join us on the dance floor. Summer is coming!