Get Dancing, Have Fun & Raise $$$ for Charity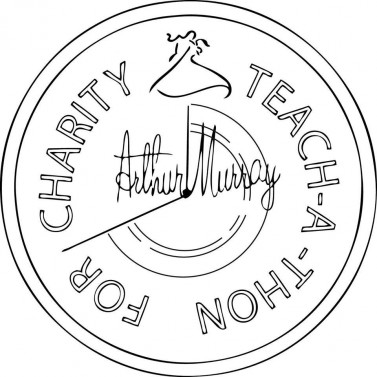 Arthur Murray Dance Centers Hosts Teach A Thon Jan. 26
Arthur Murray Dance Centers is excited to once again invite you to its annual Teach A Thon — 12 hours of non-stop dancing fun to benefit three local organizations. This year, the event is set for Jan. 26, and will be held in three Arthur Murray locations — Boston, Burlington, Mass. and Manchester, NH.
"Teach A Thon is a day where we teach from noon to midnight. Students schedule 40-min personal lessons throughout the day and all proceeds benefit charity," explain Kristen Belcher, franchisee of Arthur Murray Boston and Weymouth.
The 2018 recipients of the Arthur Murray Teach A Thon are The Carroll Center for the Blind, Habitat for Humanity of Greater Boston, Humanity of Greater Boston.
Belcher said Arthur Murray Boston Dance Center has been involved with the Teach A Thon for nine years. In 2017, the studio raised $15,000! This year, two other Arthur Murray studios are joining in on the fun.
"Burlington is thrilled to be giving back to the community," said Andrew Ross, manager of Arthur Murray Burlington. "Specifically, we're passionate about the Carroll Center for the Blind, as we used to have a student, the late Bruce Wong. Bruce took lessons with us, was visually impaired and cared deeply about the work being done at the Carroll Center. We couldn't be more thrilled to be giving back in Bruce's memory."
To participate in the Teach A Thon:
Contact Arthur Murray to reserve your 40-minute lesson.
No dancing experience nor partner are required!
All lessons will be personalized based on the students' individual interests and experience level.
Single and couples are welcome.
The cost to participate in this exciting charitable event is $100.
"We promise you will have a wonderful time," Belcher said, "and be up on the dance floor before you know it!"
For well over 100 years, Arthur Murray has been the go-to place for dancing lessons throughout the world. Using a patented teaching method, Arthur Murray dance instructors are patient and friendly. Whether you are a dancer who wants to perfect some moves, a novice who has always dreamed of getting out on the dance floor or somewhere in between, the Arthur Murray Teach A Thon is a perfect way to get started.
Arthur Murray is committed to changing people's lives through dance. The money raised during the Teach A Thon aims to help the organizations we are supporting have more resources to affect the lives of the people they serve for the better.
"Arthur Murray Manchester is super pumped to join in this great event! We're excited to give our students a chance to combine their love of dancing with an opportunity to give back to some great charities," said Ron Townsend, franchisee of the Manchester dance centre. "Our students are also looking forward to seeing their teachers teach until their feet are aching and they can't lift their arms anymore, all for a great cause!"

About the Arthur Murray Dance Centers
At Arthur Murray, we know anyone, and everyone can dance. The first step is the hardest however when it comes to ballroom dancing, there is simply too much to gain not to give it a try. Bring a partner or we'll supply one! Feeling nervous? No need! Our instructors make learning fun and easy. You won't find a more welcoming group of people than your soon-to-be friends at Arthur Murray ballroom dance schools in the Boston Area. Visit ArthurMurrayDanceCenters.com to request your FREE first dance lesson.
About the Carroll Center
Established in 1936, the Carroll Center for the Blind serves individuals of all ages, providing innovative instruction for blind or visually impaired persons to gain independence in their homes, in-class settings and in their workplaces. Our highly skilled professional staff, combined with new and evolving technologies and time-tested adaptive methods have enabled thousands of persons to live successfully with vision loss.

About New England Foundation for the ArtsThe New England Foundation for the Arts invests in the arts to enrich communities in New England and beyond. NEFA accomplishes this by granting funds to artists and cultural organizations; connecting them to each other and their audiences; and analyzing their economic contributions. NEFA serves as a regional partner for the National Endowment for the Arts, New England's state arts agencies, and private foundations. Visit nefa.org for more information. 

About Habitat for Humanity Greater Boston
Habitat for Humanity Greater Boston builds strength, stability and self-reliance through shelter. We bring people together to build homes, communities and hope by revitalizing neighbourhoods, building sustainable and affordable housing solutions, and empowering families through successful homeownership. Since 1987, we have partnered with families with limited incomes and volunteers to build affordable homes and strengthen communities in the Greater Boston area. Habitat Greater Boston is a Massachusetts nonprofit corporation and an independent affiliate of Habitat for Humanity International.