Athletes Take Center Stage for Ballroom Fun on "Dancing with the Stars"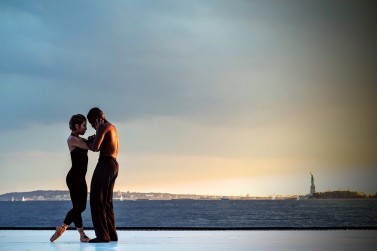 If you are like many people, you love settling in on the couch for the next episode of Dancing with the Stars (DWTS). Instead of turning their noses up at ballroom dancing, they are now eagerly tuning in to see their favorite celebrities bring fancy dancing alive on the small screen.
For 25 seasons, DWTS has been bringing ballroom into vogue again — between the costumes and the stars and the amazing competition — it's all so much fun! For this new season, athletes will be competing for the big prize! Of course, all the seasons have included athletes of one type or another — 10 have even won! — but this is the first season where all the dancers are athletes including former Olympians, basketball, baseball and football players.
The Contestants
Talk about a list of who's who! These athlete competitors will be dancing competitively with professional dancers who have graced the show in seasons' past.
Kareem Abdul-Jabbar, former NBA player
Tonya Harding, Olympic figure skater
Chris Mazdzer, Olympic luger
Mirai Nagasu, Olympic figure skater
Jamie Anderson, Olympic snowboarder
Jennie Finch Daigle, Olympic softball player
Johnny Damon, former MLB player
Josh Norman, NFL player with the Washington Redskins
Arike Ogunbowale, college women's basketball player
Adam Rippon, Olympic figure skater
Dancing Comes Naturally for Many Athletes
By definition, athletes are strong and conditioned. They keep their muscles fit and keep their eye on the prize. Therefore, it only makes sense that competitive players will be great at competitive ballroom dance. It's a test of physical endurance and stamina — just like dancing. It shouldn't come as any surprise that athletes do well at ballroom dancing. Plus some sports such as figure skating and gymnastics already involve dance moves.
Does this mean some of the contestants will have the upper hand on DWTS? We will just have to watch and see!
Stop sitting on the sidelines! Get off the couch and onto the dance floor. You don't have to do competitive ballroom dance. Give graceful social dancing a whirl. Contact Arthur Murray today to reserve your FREE first dance lesson.