The Soundtrack of Your Life: Choosing Your Wedding Song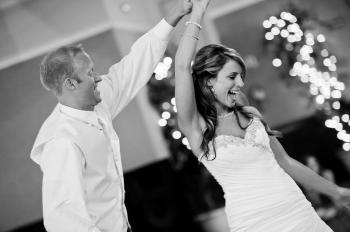 Of all the decisions and endless planning that goes in to your wedding, the song you pick for your first wedding dance is a really important decision. That said, it does not have to add stress!
The most important tip? Don't over think, and don't try too hard. It's important to relax and yes — have fun!
Make sure your first dance is all about you. It's easy to get stressed about wedding details and trying to plan the best wedding for your family and friends. But at the end of the day, it's about the two of you.
Remember the old cliché "don't sweat the small stuff?" If you can let go of the tedious details, you will enjoy your day all the more. So focus on what really matters and remember: it's starts with having fun!
No matter how many months or years later, your song brings you back to that special day. It's the first track of the soundtrack of your life together. But how do you choose one song that is meaningful to you both and captures the spirit of your love for each other?
No pressure, right?
Consider these questions:
What song was playing the first time he stared into your eyes or that first kiss?
What song was on when and where you met?
Maybe it's the place where he proposed that is special. If you're having a destination wedding, a song from the local culture will forever bring back memories of that place.
No matter what song you select, it will be fun to listen to that song on your anniversary, or any day for that matter, and you'll be transported back to your wedding day!
Whichever song you choose, it should be something significant to you both. Pick a song that is just between the two of you — not Billboard's trendiest or catchiest song of the day.
While there are plenty of suggestions for choosing "the perfect song," considering what NOT to choose may be a good first step. (Sorry for the pun!)
Don't cut it short; dance the entire song!
Your wedding day can often be a whirlwind. It flies by in the blink of an eye. All of the stress and planning and rushing and it's over. Do not rush through your wedding song; this is time for the two of you to savor the moment. Do not cut the dance short because dinner will be served! It is NOT another "thing" on the checklist. In the scheme of your big day, it really is all about you! The festivities will continue if you are a few minutes "behind schedule."
Testing Testing.
Live band or DJ, do not forget the sound check! The song sounds great on your phone but what about the venue? Be sure the acoustics do not blow out grandma's hearing aids, or that the sounds of the sea do not overshadow your song.
More than just a sound check, a trial run also gives you a chance to practice one last time and let go of the nervous jitters so you can really enjoy your time on the dance floor.
Don't forget to research ALL of the lyrics.
Sure there's a lovely chorus, but have you really listened to the whole song? The love song that speaks to you might not be all that romantic once you look up the lyrics. (You don't want people hearing swear words you never knew your song had.)
Ok so now that you know what NOT to do…the rest is easy. It starts with Arthur Murray and taking that first dance lesson! Before you even pick a song, sign up for a free lesson and start to enjoy what the first dance is really all about:. More than three minutes in front of your guests, it's a wonderful bonding experience for the two of you.
At Arthur Murray, we help make wedding memories sparkle. Contact us today and make your first dance as husband and wife truly memorable!