Need Help Choosing the Perfect Wedding Song? We Got This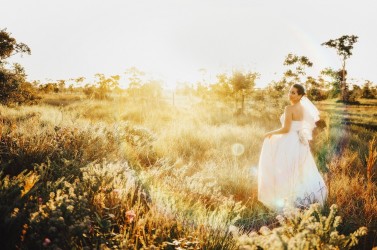 A lot of planning goes into a wedding. And, plenty of brides and grooms find themselves sweating the small stuff, especially as the day gets close and the big ticket items — venue, food, dress, rings — are under control.
One of the biggest questions that looms large is "what song should play during our first dance?"
The answer, of course, is an unique as the couple themselves. However, at Arthur Murray, we consider ourselves "in the wedding dance biz." We've met a few engaged couples in our day (thousands upon thousands all over the world in Arthur Murray's more than a century of teaching wedding dance lessons!) and we have some tricks to share about choosing a wedding song.
Can you remember the first song you danced to together? Perhaps it was a slow ballad on the high school dance floor or maybe a country line dance at a club or maybe even a rock song you both love by your favorite artist.
Who says a wedding dance has to be a slow sway? Do it your way. Choose a song that is sentimental to both of you, for whatever reason. It's a song you'll remember forever.
Now, if you feel you want a romantic first dance, consider having your "song" played as you are introduced for the first time. And choose a slower piece for the actual first dance.
Look down at your phone. Have your beloved look at theirs. Compare song lists. Choose a few you have in common and put them on shuffle. Spend the evening dancing to the list and maybe you'll find a reason to choose one!
One cool trend is to have friends choose your first dance song. Of course, contact those who know both of you well and see what they come up with. It may be the perfect one, or maybe not so much — but you'll get some great ideas and you'll have fun reviewing their picks!
Where are you getting married? Since your venue is locked in, perhaps it can offer some inspiration for your music. If you are having a formal black tie wedding, check out some Frank Sinatra. If you are hanging out on the sands, consider some Beach Boys. If you are doing a destination wedding, your locale may offer up some ideas.
Whatever song you choose, you will make it yours. And, the best way to ensure that is to treat yourself to some wedding dance lessons so you will be as confident on the dance floor as you are in each other and your wedding song choice.
Contact Arthur Murray now to schedule your first free dance lesson. Leave your anxiety at the door and learn why we say: Take a Chance and Learn to Dance!