5 Reasons to Dance Your Heart Out: How Dancing Promotes a Healthy Lifestyle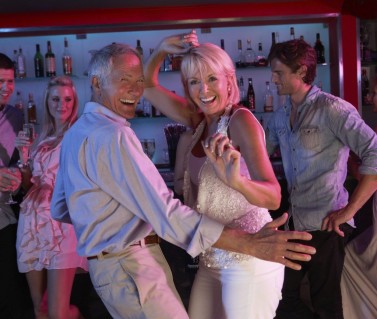 You might already know that dance classes can be a lot of fun and can be beneficial for your social life. But even more importantly, both advanced and beginner dance programs can be highly advantageous for your physical health. Less than five percent of adults participate in 30 minutes of physical activity each day. That means only one out of every three adults gets the recommended amount of physical activity each week. The solution? Find a workout you truly enjoy.
Ballroom dancing and other types of dance are unique in that you can focus on performing in an artistic way while experiencing health improvements as an added bonus. Whether you dance competitively or just occasionally for a physical and emotional outlet, here are five ways dancing is good for your health.
Lose Weight! If you're looking for a low-impact aerobic exercise, you may want to give beginner dance programs a shot. By spending 30 minutes dancing, you could burn between 200 and 400 calories. That's essentially on par with the number of calories you'd burn cycling or running. And if you've started exercising as part of a weight loss plan, you'll probably find that dancing can help a lot. Best of all, you probably won't even be conscious of how many calories you've burned; since you'll never be bored or watching the clock, you'll be too busy having fun to notice.
Build Muscle Strength! A pivotal part of ballroom dancing is resisting your partner's body strength. This, along with the turns and fast moves you'll be required to do, can help build muscle. Essentially, no matter what kind of dancing you do, you'll end up building muscle tone and strength. This will be to your advantage, as those muscles will allow you to perform better in the end.
Limber Up! From beginner dance programs to expert levels, all classes begin with warm-ups that involve ample stretching. In addition, ballroom dancing and other forms of dance involve a lot of stretching and bending throughout. This means that, as you dance more often, you'll be able to increase your flexibility. This can help keep your body feeling young and pain-free for years.
Boost Bone Health! Because some genres of dance can be rather intense, you might think participating makes you more prone to injury. But because most types of dancing involve weight resistance, it can actually help protect your bone density and may even stave off osteoporosis. If you're recovering from knee surgery or have generally weak knees, low-impact activities like dance can keep you active while reducing your risk of injury. As long as you're in a classroom environment with qualified instructors and you pay attention to what your body is telling you, you shouldn't have to worry about getting hurt
Heart Healthy! Any kind of aerobic activity will help keep your heart healthy and lower your chances of developing Type 2 diabetes and other diseases. Because dance involves full-body conditioning, you'll have the opportunity to improve virtually every organ. You can even increase your lung capacity and overall stamina.
These benefits – and many more – can translate into just about every other facet of daily life and will keep you living longer overall. If you've always wanted to learn to dance, there's no better time than the present. Arthur Murray Dance Centers can help you cha cha your way to better health.
For more information on our beginner dance programs and other offerings, please contact us today.