3 Important Things to Bring to Your First Ballroom Dance Lesson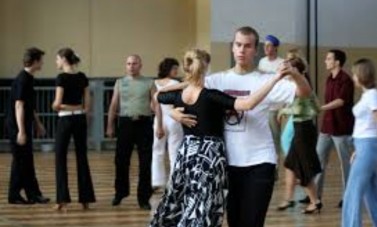 Have you signed up for your first ballroom dance lessons at our studio? Congratulations! You are on your way to trying something new! At any level, taking dance classes is a great way to get involved in your community, meet new people and learn a fantastic new way to work out.
Today, more than 80 percent of adults and teenagers don't meet the recommended health guidelines for aerobic or muscle-strengthening activities. Ballroom dancing is one of the best ways to break a light sweat and have a good time doing it. Of course, going to your first lesson at a professional ballroom dance studio can make anyone feel nervous. Here are some things to know before you step out on the dance floor for the first time.
Dress for Success!
Even though female ballroom dancers wear heels to dance, you don't have to worry about having the proper footwear for the first lesson. Make sure you wear comfortable clothes that you can move around in, along with sneakers with non-skid soles. Stay away from open-toe shoes, and if you have any questions, don't forget to ask your dance instructor for dancing shoes recommendations.
Bring an open mind
All you need for your first lesson is a willingness to try something new. Be open to what your instructor says. And, even if a move doesn't feel right at first, just try it. The best part about ballroom dancing is that there is no one right way to do something. Get creative and channel your inner beat!
Speak up and don't be shy
If something feels uncomfortable, make sure to communicate to your instructor how you are feeling. Ballroom dancing is a social activity, so you will feel your best when you are speaking up and having a good time. It is okay to feel nervous at first when learning some new steps. However, that's also part of the adventure! Stay open to your instructor's input and direction and your dancing will improve with every lesson making you a better dancer in the long run.
With these three tips in mind, you will be all set to enjoy your first ballroom dance lesson to the fullest. If you are interested in learning more about Arthur Murray Dance Centers, visit www.arthurmurraydancecenters.com. To schedule your first free lesson, contact us today.